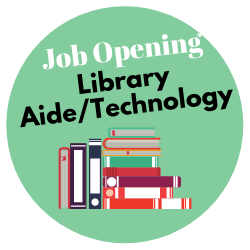 Library Aide/Technology
General Description
This is clerical work and customer service in a library involving basic support services and services to patrons, assist in library technology and maintain website, catalog periodicals assist with weeding and deleting projects.
Supervision Received-Works under the immediate supervision of Library Director
Essential Functions: The duties listed below are intended only as illustrations of the various types of work that may be performed.  The omission of specific statements of duties does not exclude them from the position if the work is similar, related or a logical assignment to the position.
*Charges books, magazines and other library holdings in and out at the circulation desk and collects fines using the circulation system
*Puts away materials in correct locations for shelving
*Discharges incoming library materials using automated circulation system and inspects for damages
*Performs routine library computer functions
*Operates a variety of standard office and library machines
*Performs routine book maintenance and processing including stickers, spine labels and covering books and cleaning discs
*Answers telephones and provides routine information or refers to other library employees
*Provides accurate library shelving and shelf reading materials
*Performs related work as required
*Provide excellent customer service with a friendly disposition
*Performs duties, functions, requirements or other related work as required by the Library Director
*Knowledge of Word, Internet & Email is essential along with a general understanding of cataloging
*Responds to questions or problems relating to interlibrary loans & MORE requests, including overdue materials, via telephone, mail or email with patron, or loaning/lending library.
*Performs light housekeeping such as dusting, taking out garbage & recycling, cleaning table tops, etc.
*Assists with library programs & displays
*Performs alpha-numeric sorting & filing tasks, prepares materials for checkout
*Shelf reads and straightens materials on the shelves or in the collection while shelving & in other assigned areas
*Empties drop box & takes returned items to the proper place for checking in
*Attends library workshops, continuing education seminars and conferences if approved by director
*Promotes library programs, services or resources to patrons 
Knowledge, Skills and Abilities
*Knowledge of library clerical procedures and practices
*Knowledge of clerical practices and ability to learn website management
*Knowledge of Word, Internet & Email is essential along with a general understanding of cataloging
*Ability to understand and follow written and oral instructions
*Ability to pay attention to detail
*Ability to establish and maintain effective working relationships with   superior, associates and the general public
Work Environment/Physical Demands
Work involves frequent pushing, pulling, lifting and carrying of up to 11-50 pounds. Bending, squatting, and reaching motions necessary for shelving of library materials.
Language Skills
Must be able to read, write, give, follow, and comprehend verbal and written instructions.
Education/experience A high school diploma and or the equivalents as well as some experience with libraries or an equivalent combination of education and experience.